The stone-pavement is over at Jimba, the crossing point with pref. road. But the away upwards continues ahead.
Over the Official Notice-Board is the lookout-bank sustained by high stone-walls. From there we look over at Mt. Ena or the landscape far away Magome.
In five minutes walk from the lookout, we meet pref. road again on the way downwards. We find a water-mill house there in a park by a brook.
【The photo beneath】 A water-mill house by a brook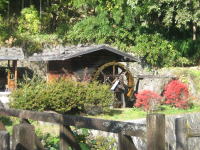 The pass-way, a narrrow path through the deep forest in mountains, just has started. On the undulated way, we find no danger.
The old Kaido path, running across the pref. road and lying over on often, gets again into the mountain forest. There are some places adequate for the rest anywhere.
◆Houses of Village on Pass◆
The way near the village on the pass is paved nicely. People coming by car had better walk there, getting off car, to meet wonderful views.
Especially in the village on the ridge-pass, we find the houses of traditional-architecture making up a fine landscape. There are a lot of nice tourist-scenes.
◆Mountain-Path and Falls◆
There are no difficult places danger for walkers, but in some narow points which need taking care enough. However there we can watch very wondeful landscapes.
After passing by the midway of the passs-way, the way goes through a deep valley, where we find a couple of falls, Odaki, i.e. a male-fall, and Medaki, i.e. a female-fall.
Around there we walk along the brook on the bottom of the valley. The path reminds us a bridge-path of Kiso-no-Sando.【The picture beneath】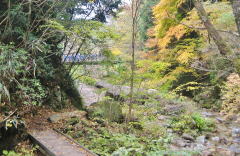 Reaching there, it is about 2 Kilometers to Tsumago. In time we get into a winding path of stone-pavement in a forest.
If you have enough time and physical enargy then, you would have a nice experience if you visit O-tsumago village following the guide-board. You will find houses of the old Machiya architecure.